Encouraging healthier minds at special event aimed at people from diverse backgrounds living in Shropshire, Telford and Wrekin
4 April 2022
Encouraging healthier minds at special event aimed at people from diverse backgrounds living in Shropshire, Telford and Wrekin
People from a wide range of diverse backgrounds living in Shropshire, Telford and Wrekin are being invited to attend a special event to find out what services, community groups and activities are available to them locally to encourage and support their emotional wellbeing. 
The event called the Healthier Minds Festival is taking place on Thursday 5 May between 10am and 5pm at Telford Cultural and Leisure Centre in Hadley. It will be an opportunity for community members to share their experiences of accessing mental health and dementia services in the county.
This will be the first, large face-to-face NHS community engagement event locally since the Covid-19 pandemic.
Community leaders, NHS teams and stallholders from a wide range of voluntary community and social enterprise (VCSE) sector organisations and groups will be on-hand to meet the communities they serve and discuss with them what is working well and also find out reasons why community members might not be coming forward and making contact with services.
The event is aiming to bring communities from across the local area together, as well as establish whether there are any cultural barriers, which make accessing services more challenging. It will also seek to find out whether people know what support is out there locally and where they can go for help.
For those who attend, this is a chance for them to shape and improve local services and support for the future.
The event will be run as an informal, market stall style event to encourage lots of discussion, networking and a chance to forge supportive, local connections. 
Throughout the day, a wide range of demonstrations for activities that support and promote a healthier mind such as arts, crafts and much more will take place. There will also be a free, vegetarian lunch served for those who attend.
Frances, Sutherland, Head of Transformation and Commissioning for Mental Health, Learning Disability and Autism for Shropshire, Telford and Wrekin Clinical Commissioning Group (CCG), said : "Towards the end of last year into the beginning of this year, we had started to visit a number of ethnically diverse communities living locally. These visits were extremely enlightening as many of the people we spoke to about mental health and wellbeing didn't always know what support was available and where to access it locally.
"This inspired us to plan a much bigger event where more communities could come together to share experiences around accessing mental health support and services.
"We felt that it would not only provide us with an opportunity to raise awareness of some of the services our area has to offer but also to raise awareness of mental health and emotional wellbeing in general."
Dr Priya George, Shropshire, Telford and Wrekin Integrated Care System Clinical Lead for Equality, Diversity and Inclusion, added: "The Healthier Minds Festival is a fantastic opportunity for us locally to speak with members of our communities in a very open, honest, friendly and supportive manner to find out more about their needs.
"It will also provide everyone with a chance to forge positive relationships and maintain an ongoing dialogue with local people.
"Our findings from the event will be used to help improve and develop services, as well as shape future decisions that will affect the health of the community.
"It's also important to say, that this event forms the beginning of a roadshow set of events, and following on from this, we will be asking community groups to get in contact with us, so that we can visit people in their familiar and trusted community spaces in the coming weeks and months ahead."
Sherrel Fikeis, a community leader and also Director for Citizens Advice in Telford and Wrekin, added: "This event is a chance for community members to build further confidence and trust in the NHS, as well as have a voice to vocalise their specific individual needs and experiences.
"I would encourage anyone with an interest in emotional wellbeing and mental health to come along to this event."
For more information about the event, visit: https://www.stwics.org.uk/get-involved/shropshire-telford-and-wrekin-ics-events/healthier-minds-festival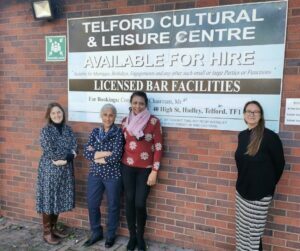 Pictured are some of the organisers of the Healthier Minds Festival. From left, Jayne Morris from Shropshire, Telford & Wrekin Integrated Care System (ICS); San Sekhon, Committee Member of the Gurdwara; Sherrel Fikeis, a community leader and also Director for Citizens Advice in Telford and Wrekin; and Helen White from Shropshire, Telford and Wrekin Clinical Commissioning Group (CCG).
Page last updated 4 April 2022