Introducing Edna Boampong, Director of Communications and Engagement  
23 June 2021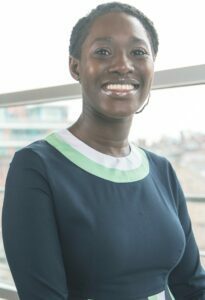 We are delighted to announce the appointment of Edna Boampong, who has joined the Shropshire, Telford and Wrekin Integrated Care System (ICS) and Clinical Commissioning Group (CCG) as our new Director of Communications and Engagement.
Edna first joined us on an interim basis in April 2021, but has recently been appointed to the substantive post. She is a multi-award-winning communications, behaviour change, and change management director with over 17 years of experience designing and leading strategic communication and engagement programmes, public health initiatives, stakeholder relations and transformation strategies.
"I am delighted to have joined Shropshire, Telford and Wrekin at such an exciting time for the NHS, as we move towards establishing ICSs as statutory bodies," said Edna.
"We have a number of challenges that we need to confront, but I take huge confidence from the talented team we already have in place, and by the steps we are taking to strengthen it further.
"Effective communications and engagement is going to be crucial to the successful delivery of our ambitious transformation programme and I intend to lead from the front.
"My approach is often to be creative and think outside of the box, however, that is grounded by my extensive knowledge and understanding of the health and care system. As an 'insight-led' communications specialist I use data to inform strategies and decisions, I think I will bring something unique to the Shropshire, Telford and Wrekin system."
Edna was the Interim Director of Communications for 18 months for the Cheshire and Merseyside Health and Care Partnership, the second largest ICS in the country. During this role she led substantial insight research aimed at gaining an in-depth understanding of the impact COVID-19 has had on ethnic minority communities across the Cheshire and Merseyside system, and their perceptions about the vaccination programme. These insights are now being used nationally to address vaccine hesitancy and support the development of services, communications activity and recovery strategies that will address the impacts on ethnic communities. This programme won three national awards in 2021, including a prestigious HSJ award.
She has designed and delivered a number of high-profile public consultations, including the Greater Manchester Healthier Together programme, which was proposing large-scale changes to acute hospital services.
Having led the communications, engagement, equality and diversity programmes for several significant change programmes across the Northwest, she is committed to taking positive steps to ensure fair and equitable access to services for all and reducing health inequalities.
In 2021, Edna was awarded 'Fellow' membership status by the Chartered Institute of Marketing (CIM). The CIM Fellowship is the highest-ranking member level and provides the ultimate recognition of Edna's career achievement within the communications and marketing field.
Page last updated 25 May 2022