Message of thanks from our Executive Director of Nursing and Quality on International Nurses Day
12 May 2021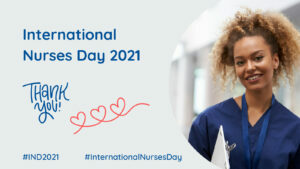 Message from Zena Young, Executive Director of Nursing and Quality
The International Council of Nurses hosts International Nurses' Day each year on 12 May to mark the anniversary of Florence Nightingale's birth and to celebrate the achievements of the nursing profession.
Over the last 12 months and in the wake of COVID-19, many nurses have risen to the challenge and worked tirelessly and under difficult circumstances to support services, often working in unfamiliar circumstances, whilst dealing with the personal impact the pandemic has had on their lives.
I am very proud to be a nurse and want to thank my nursing colleagues for the significant contribution to care and the huge impact you make to people's lives.
The 2021 International Nurses' Day will seek to highlight the ways nurses are innovating and will also explore what nursing may look like in the future.
Page last updated 12 May 2021