National Self Care Week 2021: Tips to embed self-care practices into your daily routine
15 November 2021
This week marks National Self Care Week 2021, an annual UK-wide awareness event that focuses on embedding self-care practices across communities.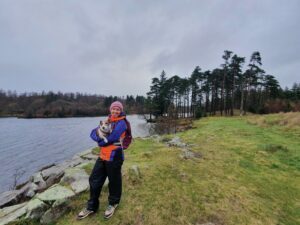 To highlight how quick and easy it is to practice self-care for life, we've spoken to Claire Hand, Pharmacy Technician at NHS Shropshire, Telford and Wrekin Clinical Commissioning Group (CCG), on how she maintains good physical and mental wellbeing through effective self-care.
"For me self-care is about looking after my health and wellbeing, not just physically but mentally too and I do this in a variety of ways.
"Exercise is very important to me, whether it's running, walking or cycling; it helps my mental health by boosting my mood and self-esteem. I always feel more confident when I'm feeling fit and strong, ready to take on anything that life throws at me. Exercise is also medically proven to lower your risk of coronary heart disease and stroke, type 2 diabetes and some cancers – it's a no brainer really! My 20 minute brisk walk with Tilly, my Jack Russell, at lunch time is a must, come rain or shine.
"Spending time outdoors is essential for my mental wellbeing, breathing in the fresh air and practising mindfulness helps me to forget my worries and stresses. I make sure I spend some time outdoors every day. It might just be sitting in the garden for 10 minutes where I can gently focus my mind on the colours I see (amazing at this time of year with the beautiful oranges, reds and yellows). I listen to the leaves rustling, the birds tweeting and find a peaceful stillness to relax in for a few minutes. Bliss.
"I also try to eat a healthy diet; I'm pescatarian so I have to ensure I get enough protein in my diet. As well as fish, I eat lots of lentils and beans which are high in protein and fibre not to mention super tasty! During the pandemic I found myself snacking more than usual and so I downloaded an app to help me keep track of my calories and nutrients. My clothes are fitting much better now that I've reduced my snack drawer visits!
"I have a genetic condition called Haemochromatosis which means I absorb too much iron from my diet. It's treated by venesections (giving blood, similar to blood donations). I was really anxious about the treatment venesections when I was first diagnosed, but the nurses who looked after me were great, very kind and reassuring. A restricted diet is not recommended for genetic Haemochromotosis; however there are a few things I watch out for such as making sure my multivitamins do not contain iron and trying to avoid food products which are fortified with iron.
"I also take a vitamin D supplement; you need vitamin D for healthy bones, muscles and teeth which I need for cycling down country lanes or hiking up mountains with a big smile on my face! Vitamin D is made by our bodies from direct sunlight on the skin, so with the dark nights closing in supplements are essential as our bodies can't make enough on their own. I buy mine from the supermarket and they keep me going through the winter months although I would recommend speaking to a pharmacist for advice on what dose to take before buying.
"This Self Care Week, I'm hoping that lots of people make that change and take up some simple self-care practices to help boost their general health and wellbeing. It really is worth taking some time for yourself and focusing on how to make these small but significant improvements. So, how will you practice self-care for life?"
For more information on Self Care Week 2021 and how you can get involved, please visit the Self Care Forum at: www.selfcareforum.org
Help us celebrate the week by downloading our resources
Page last updated 15 November 2021