Opening up vaccination bookings and walk-ins to 'at risk' 5 to 11-year-olds "means all the family are safe and protected", say Shropshire family
10 March 2022
Opening up vaccination bookings to 'at risk' 5 to 11-year-olds "means all the family are safe and protected", say Shropshire family
Parents and carers of children aged 5 to 11 years old, who are at high risk of being very unwell from Covid-19 or who live with someone who has a weakened immune system, are being encouraged to get their child booked or walk-in for their vaccine at the earliest opportunity.
Last week it was confirmed that parents of those youngsters in that cohort could now book a Covid-19 vaccination appointment at The Robert Jones and Agnes Hunt (RJAH) Orthopaedic Hospital Vaccination Centre in Oswestry, and today, it has been confirmed walk-ins will be accepted.
A vaccine clinic for those aged 5 to 11 years old, who are clinically extremely vulnerable or live with someone who is immunosuppressed took place earlier this week, with another planned for this Saturday 12 March, between 9am and 1pm.
Parents and carers are being encouraged to book their child in for this Saturday's clinic or alternatively, they can walk-in without a booking.
Parents or guardians must accompany their children. To book an appointment, contact RJAH Vaccination Team on 01691 404029 or email rjah.vaccination@nhs.net.
Lisa Williams, from Halfway House near Shrewsbury, brought along her 11-year-old son, Lewis to the RJAH clinic this week. She said Lewis had his to protect his clinically vulnerable, older brother.
She said: "Lewis' older brother has cerebral palsy, so as soon as we were able to get him booked in we did because Lewis was keen to do all he could to protect his brother and being the youngest in the family, he's the last one of us to have his.
"As a family we can breathe a great, big sigh of relief that we're all vaccinated, it means that all of us are now safe and protected."
Speaking after having his vaccine, Lewis said he was pleased the wait to have his jab was over.
He said: "I had mine to look out for my older brother. I'm happy that I've now had it, it was less painful than I thought it would be, I barely felt anything."
GPs and hospitals are contacting 3,000 families of 5 to 11-year-olds across Shropshire, Telford and Wrekin who have been identified as being eligible. The Joint Committee on Vaccination and Immunisation (JCVI) has identified the following children as being at serious risk from the complications of Covid-19 infection:
children with severe neuro-disabilities
children with immunosuppression – those whose immune systems are weakened, as well as those who live with someone who is immunosuppressed
those with profound and multiple or severe learning disabilities
children on the learning disability register or with Down's syndrome
children with long term serious conditions affecting their body.
Angie Wallace, Senior Responsible Officer for the Covid-19 Vaccination Programme in Shropshire, Telford and Wrekin, added: "I encourage any parent or guardian of children in this eligible group to book an appointment or walk-in right away to protect their child against the virus.
"As explained by Lewis and his mum, Lisa, getting your child vaccinated protects them if they are clinically at risk or their vulnerable family members."
Please be aware that 5 to 11-year-old clinics will be held at different times to the 12+ clinics or adult clinics, due to the difference in dosing and parents will not be able to book their child's vaccination appointment by calling 119 or using the national booking system.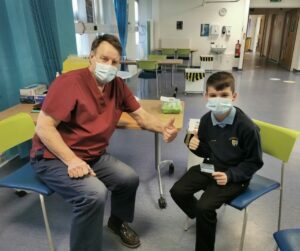 Pictured is Mr Chris Beacock, Covid-19 Vaccinator, and 11-year-old, Lewis.
Page last updated 10 March 2022