People with no ID or address can register with a GP practice
17 June 2021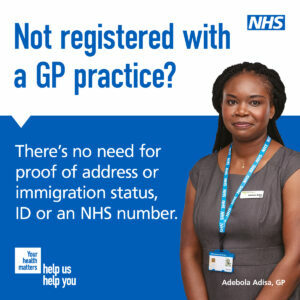 Health bosses at NHS Shropshire, Telford and Wrekin Clinical Commissioning Group (CCG) are encouraging people who do not have ID or a fixed address to register with a GP practice to ensure they access healthcare.
Everyone in England is entitled to register with a GP however some people may feel excluded if they don't have any identification, a fixed address or know their NHS number.
Dr John Pepper, Chair of NHS Shropshire, Telford and Wrekin CCG and a local GP, explains: "GP practices are often the first contact if you have a health problem. It's important for everyone to feel welcome in our GP practices, especially those who are most vulnerable.
"There is a misconception that you need photographic ID, such as a driving licence or passport, as well as proof of address to be able to register with a GP. This is not the case and anyone within the GP practices' catchment area can register."
Registration with a GP practice is also encouraged in order to access the COVID-19 vaccine, or you can drop in at one of our vaccination walk-in clinics such as the Robert Jones and Agnes Hunt Orthopaedic Hospital in Gobowen up until and including Sunday (20 June) between 8am and 5:30pm.
GP 'Access Cards' also provide information for vulnerable people on how to register with a GP and are available from local Healthwatch and voluntary organisations.
For more information about registering with a GP, please visit the NHS website.
Page last updated 17 June 2021