Telford International Centre now open for COVID-19 booster bookings and walk-in's
17 December 2021
As part of plans to deliver over 10,000 booster vaccines a day in Shropshire, Telford and Wrekin before the end of December, Telford International Vaccination Centre has reopened.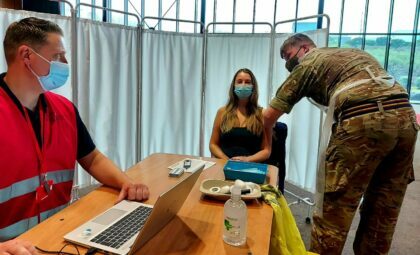 From today, everyone over 18 can book a booster jab online via the National Booking Service or by calling NHS 119. The Vaccination Centre, located in the centre of Telford, will be open 7 days a week, except for Christmas day, Boxing day and New Year's Day, 8am to 6pm.
The Shropshire, Telford and Wrekin Covid-19 Vaccination service is responding to the national call to accelerate the booster vaccination programme following the Prime Minister announced plans to offer everyone aged 18 and over a booster jab by the end of December 2021 in response to rising concern over the Omicron variant.
This is a total of 137,000 boosters to be delivered across the county by New Year's Eve.
Angie Wallace, Senior Responsible Officer, Shropshire, Telford and Wrekin COVID-19 Vaccination Service, said: "We have so far given over one million vaccines in a highly successful programme and at the moment we are vaccinating 7,000 people a day.
"We are delighted that Telford International Centre has reopened it's doors and I would like to thank everyone involved in making this happen so quickly. There are plenty of vaccine doses and appointments available, so please don't delay get protected."
Telford International Centre first become a large vaccination centre earlier in the year playing a vital role in delivering to vaccines first and second doses to Shropshire, Telford and Wrekin residents.
Yesterday, Emma and Andy Ferguson-Law, was one of the first to walk-in to Telford International and grab a jab. Emma, who is 17 weeks pregnant with their first child, said: "We are very happy to receive our COVID-19 boosters today, following advice from our midwife that this was the best way to protect ourselves, our unborn baby, family and friends."
Angie, added: "If anyone is in any doubt about the necessity of this accelerated booster campaign, the covid infection rates are very high and the Omicron variant is a massive threat if you have only had two doses. The booster dose gives the added protection you need. So stay Safe, keep your distance, wear a mask and GET VACCINATED."
You can book your vaccinations online through the National Booking Service or by calling 119.
Alternatively, Shropshire, Telford and Wrekin's vaccination walk-in clinics can be found here: COVID-19 Vaccination Walk-in and Pop-up Clinics (stwics.org.uk) 
Page last updated 17 December 2021