Therapy Dogs at RJAH Vaccination Centre to help relax children and young people whilst they have their jabs
18 February 2022
Therapy Dogs at RJAH Vaccination Centre to help relax children and young people whilst they have their jabs
As children and young people across the Shropshire, Telford and Wrekin are being urged to get their Covid-19 vaccination over February half term, The Robert Jones and Agnes Hunt (RJAH) Orthopaedic Hospital vaccination staff and volunteers have enlisted the help of two four legged friends from the charity Therapy Dogs Nationwide to help relax children attending the clinic for the Covid-19 jabs.
Lola, the chihuahua and Bojangles, the Parson Russell Terrier – who is a fly ball champion, TV and film star – will be at RJAH over the half term period at certain times:
Saturday, 19 February 8am to 1pm
Monday, 21 February 8am to 5pm – featuring Lola 1pm to 4.30pm
Tuesday, 22 February 8am to 5pm – featuring Lola 1pm to 4.30pm
Thursday, 24 February 8am to 5pm – featuring Bojangles 10.30am to 2pm
Friday, 25 February 8am to 5pm – featuring Bojangles 10.30am to 2pm
Saturday, 26 February 8am to 1pm
Jo Costa, a volunteer at the charity and Lola's owner, said: "Dog therapy is the perfect distraction, Lola loves all the attention and at a vaccination centre she will really help ease the nerves of children as they will be focusing on the dog rather than the jab. All our dogs at Therapy Dogs Nationwide have passed a special temperament assessment test to enable them to be therapy dogs and have worked in other areas before being allowed to work with children."
Rebecca Warren, Vaccination Lead for RJAH, added: "Therapy dogs, Lola and Bojangles will be on hand to help at the RJAH vaccination clinics over half term and we hope that they will encourage more young people to come and receive their jab. It is never too late to receive the vaccine, it really is the best protection, and I would encourage anyone eligible to take up the offer."
Children aged 12-15-years-old have been offered vaccinations through their school clinics, however, due to Covid outbreaks many have been unable to attend and are required to wait at least 12 weeks following a positive Covid test result.
Parents are being advised to either book an appointment for their child online via the National Booking Service or drop in to a walk-in or pop-up vaccination clinic, for further dates and times please visit: COVID-19 Vaccination Walk-in and Pop-up Clinics (stwics.org.uk). Parents will be asked to attend to provide consent for their child.
For further information on Covid-19 vaccination for children and young people please see: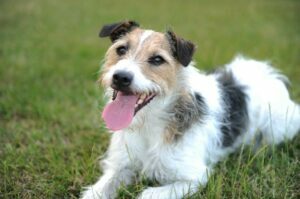 Pictured is Bojangles, the Parson Russell Terrier.
Page last updated 18 February 2022